Thank you Marcia @ Trendy Simple Life for tagging me with the Halloween Creatures (2.0) Book Tag, which was created by Anthony at Keep Reading Forward ,  I decided to leave this tag until actual Halloween night so I could truly be in the spooky mood.
I need to somehow maintain this spooky mood until this weekend when we throw our own party but I have a wedding to attend before then so I suppose I may have to suspend it for tomorrow and pick it back up again later.
---
The Rules
Answer all the prompts
Tag 1 to 13 people
Link back to this post
Remember to credit the creator
Have FUN
---
Witch
A Magical Character or Book
M'kay, so as a primarily fantasy based reader this … doesn't narrow anything down so I guess I need to go with 'the' answer and pick the most iconically magical book out there – Harry Potter and of course with a prompt like Witch I certainly can't neglect to mention the most talented witch of her generation in her witchiest form: brewing a potion on the floor of a girl's lavatory.
---
Werewolf
The Perfect Book to Read at Night
Um, all of them? I used to love to read through the night but since I had to grow up and do all these 'adulting' shenanigans I haven't been able to for a long time. I'm going to go with The Count of Monte Cristo or The Hobbit because I don't do scary and I think night-time is the perfect time to fall into an adventure.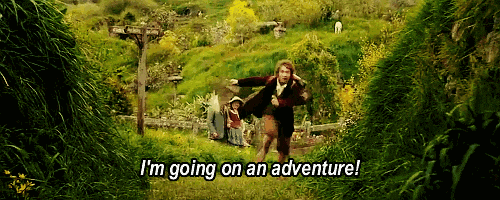 ---
Frankenstein
A Book That Truly Shocked You
A tricky one, but I'd have to say most recently it was The Seven (& 1/2) Deaths of Evelyn Hardcastle by Stuart Turton – it didn't shock me once but a whole bunch of times, there is revelation around every corner in this one.
---
The Devil
A Dark, Evil Character
I very recently did a post naming my Best Book Villains – once again visiting Rowling's magical world Delores Umbridge took top spot but I think if we're talking truly evil one of my runner-ups for that list, Lemony Snicket's Count Olaf, would most certainly win teh day.
---
Grim Reaper
A Character that Should Have Never Died
SIRIUS BLACK. There was no reason, whatsoever. Argggghhh. Still hurts.
---
Zombie
A Book that Made You "Hungry" for More
Most recently it has to be Victor Dixen's compelling, suspense-filled sci-fi series Phobos instalments 1 & 2 – Ascension & Distortion.
---
Gargoyle
A Character That You Would Protect at All Cost
I really don't know – all my favourites pretty much kick butt at protecting themselves. I will say Yumeko from Shadow of the Fox, my current read, which I am rather enjoying could maybe do with someone to protect her at all costs because as much as I love her, her survival so far has been pure luck and charm.
---
Vampire
A Book That Sucked The Life Out of You
The Gloaming by Kirsty Logan – and not for any good reason. Let's not get into it.
---
Ghost
A Book That Still Haunts You
Vox by Christina Dalcher was … intense. It comes to mind every time I hear an inadvertently sexist comment or read an article about how Donald Trump as been misogynistic this week. The thought generally kick starts my need to go and write and write and write and advocate just because I can.
---
Demon
A Book That Really Scared You
See above. I don't do horror or scary but plausible or realistic dystopian scares me on a fundamental level.
---
Skeleton
A Character That You Have a Bone to Pick With
Oh, where do I start? Briony Tallis, Bella Swan, Gilderoy Lockheart, Fanny Price, Lydia Bennett – the list goes on.
---
Mummy
A Book You Would Preserve Throughout Time
Would have to be a toss-up between my two favourite classics because they are timeless and need to be preserved. As much as I love a lot of the contemporary books I read now I feel that very few of them achieve the sophistication and subtle brilliance of authors hundreds of years ago that wrote their novels purely, without the taint of the internet.
---
Creepy Doll
A Cover too Scary to Look At
Don't do horror, I'm afraid. Though, I will say, the original Delirium Trilogy covers were a bit creepy for me. I don't do close-ups of faces.
---
The Monster Mash
It's Fun to Be with Friends on Halloween! Tag Your Friends!
So … I'm probably going to get into trouble for this, but … with it being Halloween I don't want to make this tag into an unnecessary chore or burden for anyone's blog by making it super late and not make sense so … if you want to do this now, or even wait until next year … I tag you!
*runs away*
---
Well, that was super fun, thanks again Marcia @ Trendy Simple Life for tagging me and guys, you should really check out her blog post it has a great Halloween Playlist link for Spotify that I am totally going to use for my party this weekend – have a great Halloween and, if you celebrate it, Bonfire / Guy Fawkes Night!
---
Happy Halloween!