Top Ten Tuesday was created by The Broke and the Bookish in June of 2010 and was moved to That Artsy Reader Girl at the start of this year. This week's prompt was 'Bingeworthy TV Shows/Movies'. I stuck with the TV show angle because the way I see it bingeing a TV show can span a couple of days provided you don't watch anything else in between whereas bingeing movies really need to be done in one sitting to qualify. The only movies I've binged have been the Harry Potters and standing at very nearly 24 hours in total, these days …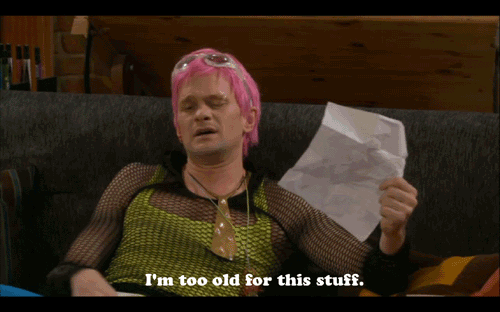 So on with the list!
---
10. Arrested Development (76 episodes) [15+]
Arrested Development is a sit-com in every sense of the word. Centred around an extremley dysfunctional family and the various situation they get themselves into this is a subtly hilarious show filled with aside jokes and little references throughout, many of which you may not even notice on your first viewing and are all the more hilarious when you do on the second or third. This is not really my usual viewing and I likely never would have watched any of it had it not been for my boyfriend wanting to recap before the airing of the new season but I'm glad I did watch it.
9. Project Runway (16 seasons approx 12-14 episodes each) [15+]
This may just be me but Project Runway is a show I binge watched very recently and, even though it is a competition show, enjoyed every second. I find competition based shows tend to be better experienced periodically (e.g. 1 episode a week as they are aired) but the drama of Project Runway for me, makes it very binge-able as I just get so caught up in it. I've split up the episodes differently as it's not a show you necessarily need to watch chronologically (although it is recommended to avoid spoilers) and one season won't take long to get through at all.
8. Dark Matter (39 episodes) [14+]
This is a sci-fi show opens on a spaceship whose crew has just awoken from stasis to find all of their memories are gone and have no idea how they got there. I started watching this show when it aired on television but when we stopped streaming the channel that hosted it I binged all of its subsequent seasons through streaming sites and loved it more for it because I find suspense can often wane in a week and it's not the same viewing experience.
7. Marvel's Agents of S.H.I.E.L.D. (110 episodes) [13+]
Your enjoyment of Marvel's Agents of S.H.I.E.L.D. is probably dependant on your enjoyment of the Marvel Cinematic Universe in general, to be honest. I personally love the MCU and this shows first three seasons tie into the events of the movies being concurrently released quite well before it diverges onto its own arc. I'll admit the first half of the first season is pretty rough (but not horrible!) so pushing through and binging through the first season is the best method because once you pass that point you won't want to stop.
I love this show, it's perhaps one of my favourite comic book shows on air because I like that it works in its own section of the MCU. The characters and constructs it brings in from the comics are often ones that are yet to be explored in the existing movies and production value, in my opinion, is great.
6. Gilmore Girls (153 episodes) [13+]
I only part-time binge watched this one as it was actually a show my boyfriend was watching (we are a couple that defies presumed gender tastes and roles, he made me watch Notting Hill) and he got so hooked he often watched ahead (not cool). However, I totally got why because this show was kinda addictive. The drama of the two main characters (even when they were annoying and making poor life choices) was compelling in such a strange way. As a mother and daughter duo, they are brilliant (I love their back and forth) and you can't help but become invested in their hopes an dreams. You want Rory to get into Harvard. You get frustrated by Emily's meddling. You route for the romances. It's nice easy watching too.
5. Riverdale (35 episodes) [14+]
Another show my boyfriend just couldn't wait for me on. Admittedly I didn't start it with him only tagged along and giggled at his frustration when they reverted to weekly episode release. Centred around mysteries and intrigue, this on-screen adaption of the Archie Comics is very much a live action, high school age Scooby Doo retelling almost and it doe sit really well. The acting is great and the aesthetic is really distinctive too.
4. Peaky Blinders (24 episodes) [18+]
I'm really going for diversity with this one, aren't I? This is what I'd call a period drama based around the gang warfare in Birmingham around the turn of the 20th century. Very much glamourised it's not a good reference for historical accuracy but it is a fantastic show. The acting is superb and the drama is definitely gripping. Tom Hardy is especially good in this I think.
3. The Punisher (13 episodes) [17+]
This is another Marvel show but a Netflix Original/Exclusive one and if I'm honest, as much as I love Daredevil and Luke Cage, it is probably the best of the lot. The Punisher is a soldier and a hero, but not the super kind. This first season is brilliant from the word go and explores his pursuit of avenging the murder of his family. I am not the authority on this subject but have heard military veterans and other sources as one of the most accurate portrayals of PTSD in pop culture. The casting of Jon Bernthal as Frank Castle cannot be flawed.
2. Voltron: Legendary Defender (65 episodes) [8+]
I find it amusing that my age range for these shows varies so drastically. This is a show you'll have heard me talking about a fair bit, including a post I wrote over on Irina @ I Drink and Watch Anime's blog but I couldn't not mention it as it's probably the most recent show I have binged so far. It took me by surprise in a big way and I was an instant fan of this fun, anime-inspired animation series that is easiest described as Transformers meets Power Rangers in space.
1. Reign (78 episodes) [16+]
I watched this show as fast as I physically could. Another period drama, again with much additional glamour and ambiguous historical reference mixed in, Reign centres around the youth of Mary Queen of Scots, a historical figure that prior to this show I had not been particularly interested in. The writing, casting and production of this show are all magnificent but what I want to tell you most about it is the splendour of it all. I mean it is extravagant, beautiful, the sets, setting, costumes and props, I mean, sure they aren't historically correct but god they're gorgeous (go Pinterest or Google image search it). As gorgeous as the shows leading lady, Adelaide Kane who, along with Alan van Sprang, is possibly the best performance in the series which is a tough one to call because they are all fantastic as far as I'm concerned. I didn't want it to end.
Honourable Mention
Game of Thrones (67 episodes) [18+]
This is probably one of the first shows that springs to mind for most people when you think binge-worthy but I didn't feel I could include it in my main list since I haven't actually watched it. I am in no doubt of its binge-ability and plan to watch it soon, but I'm put off by the fact it diverged from the books after they ran out of them.
---
This was so fun to write! Have you seen any of these shows? What did you think of them? Don't forget to post your Top Ten Tuesday links in the comments!
Until next time!